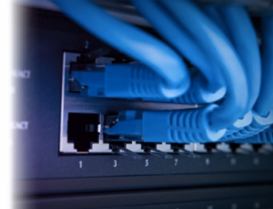 NetTel Solutions has designed and implemented many systems for clients, using strict ANSI, EIA/TIA standards; our expertise will help you in implementing a "transparent", structured cabling system allowing you to concentrate on more important issues, such as running your business.
Installation services include cabling system design and implementation, including Fibre, Category 6 and 5e as well as Data room design.  Our maintenance service extends to providing support for any Data Network installation. Considering that a typical Ethernet infrastructure will be in place for 20-30 years, and critical technologies such as voice/telephone (VoIP), and video surveillance (IP-based video), traditionally been installed on separate copper and coaxial networks are now part of the LAN network infrastructure, we feel that it's more critical than it ever to select the right infrastructure partner from the start.
Should you requirement a wireless Network, NetTel can implement a secure solution using commercial grade name brand Wireless WIFI/Access Points and protocols.  We will deploy a secure system using modern deployment software and guidelines, to provide full coverage, at the highest speeds possible.  Products include Cisco, HP, Ubiquiti and EnGenious
NetTel Solutions offer complete Computer Network Management through our experienced Network Management Partners. Trust in our expertise to insure your complete Network is secure and your Computer Work Stations are safe from virus threats and resources are running at optimal levels.
NetTel Solutions is ConnEX IT Connectivity certified